rinse. Use of the MegPie can reduce the process time or support the performance. Due to the pH FTIR characterisation of Si reference and sample neutral fluid and the new working principle the after fluid and water rinse off shows total surface surface properties of the substrates stays unefrecovery and absence of any residues. fected. Final rinse leaves wafer surface uneffect
ed and free from residues.
Physical Data Overview Intelligent fluids® are Enabler for Technology Advantages on Substrates
The character of the fluids reduces critical impacts
of the stripping process, such as surface
roughness, pattern collapse, insufficient wetability
and reduces process complexity.
TCO & Performance Advantages
The smart mode of action optimises process parameters like time, temperature, energy, consumption and/or bath life.
Ecological Advantages for Safe Use
Intelligent fluids® consist only of gentle ingredients
without hazardous potential. The waterbased
formulations are non flammable, pH neutral,
biodegradable, and can easily deactivated by
adding water.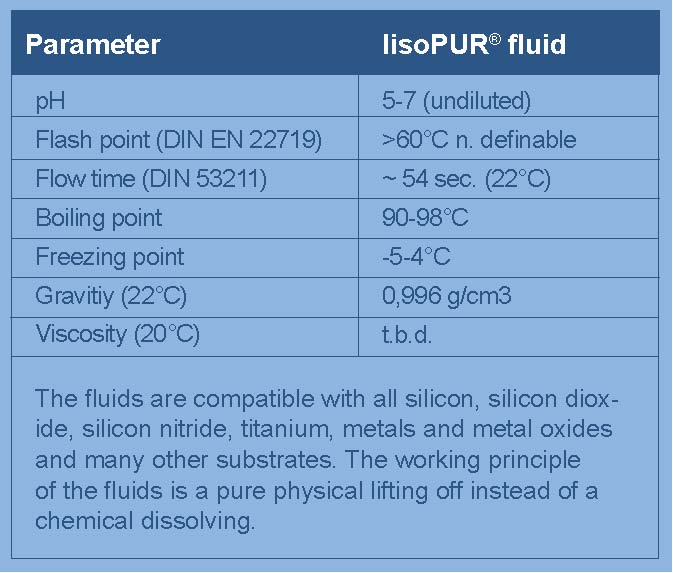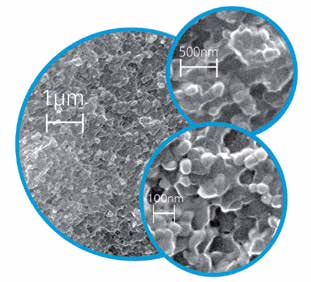 Advantages of lisoPUR®
Enables future semiconductor technology trends

Reduced total costs of ownership

Reduction of process steps er time

Extraordinary stripping performance

Sustainable process fluids (incl. recycling)

Dermatologically tested (very good)

Neutral pH range, non corrisive, non etching

No substrate stress, corrosion or oxidation

Smart but powerful formulations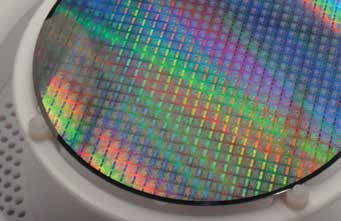 Process Data for lisoPUR® waterbased Photoresist Stripper

| | | | |
| --- | --- | --- | --- |
| STEP 1 | STEP 2 | STEP 3 | STEP 4 |
| lisoPUR® stripper starts to | Creeping/fragmenting | Rinse-off (DI water, IPA, etc.) | Wafer drying at high velocity |
| penetrate and diffuse the | reduces adhesion forces | removes fragmented resist | spinning |

Example: Megasonic Enhanced Photoresist Strip with DiO3
Dissolved ozone in DIW (DiO3) provides an effective replacement for Piranha (H2SO4, H2O2) cleans. The fundamental chemistry of ozone based cleaning is due to direct and indirect reactions of ozone and oxygen radicals (the so-called radical pathway). Due to its high oxidation rate the radical path
way can accelerate the reaction. Megasonic energy can act as an initiator for the radical pathway. At
the same time, due to the creation of turbulence inside the boundary layer, the available ozone close to the surface is increased.
In a study by D. Dussault of ProSys and Jens Fittkau and Christiane Gottschalk of ASTeX GmbH, the authors show, that the combination of DiO3 and a uniform Megasonic energy field in a conventional single
wafer spinner significantly increases the strip rate

of various positive PR coatings compared with DiO3 alone. They measure improvements in strip

rate of over 65% (figure 5) Variations in spin speed (rpm), flow rate (lpm), and megasonic dosage

(W/cm2) resulted in large effects on the measured strip rate.

The POLOS Advanced 200 series allow for

±0,1rpm spin speed accuracy, and the user can easily program speed up to 12,000 rpm in 1 rpm steps. Up to 6 dispense lines can be automatically controlled.

Measured without substrate, limitations may apply depending on chuck used and substrate

specification
Don Dussault , ProSys Inc, Jens Fittkau2 and Christiane Gottschalk, ASTeX GmbH
Spin Etching as post-treatment after Wafer Thinning
Wafer thinning (back side grinding) is used in IC and MEMS fabrication in order to:
-Achieve a desired device thickness (ICs, MEMS)
-Ensure a specific thickness based on device functionality (MEMS)
-Reduce substrate series resistance in vertical devices (Power devices)
As a study by Dr. K. Gottfried of Fraunhofer ENAS by spin etching with HNO3/HF/CH3COOH on a POLOS Advanced Spin Station proved that wet etch, executed as spin etch, offered removal of 10 μm silicon, and is suitable to remove grinding induced substrate damages almost completely.

CH3COOH HF HNO3 DI water
The platform offers a comparatively simple, reasonably priced process setup. The process being much faster than CMP offered a high and tunable etch rate (much faster than CMP) and the ability to process grinded wafers direct without additional cleaning.
Standard features
Process applicable to 100mm, 150mm, and
200mm wafers with minimum conversion
time (less than 15 minutes)
Chemicals
KOH
HNO3/HF/CH3COOH (HNA)
Wafer rotation
Continuous wafer rotation
Puddle mode
Subpoints of "Dispense position and mode"
Fix position
Oscillating movement over a specific
distance (wafer diameter)
Spray dispense
Flush dispense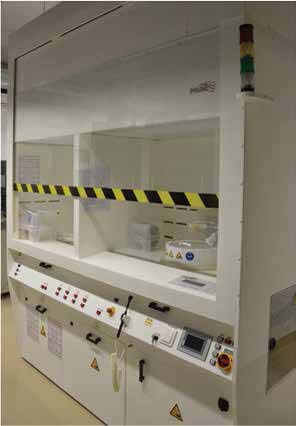 Depending on the chemicals used
Source: Fraunhofer ENAS-Dr. Knut Gottfried, Precise Bulk Silicon Wet Etching 2013
Spin Process Station
Based on the proven high quality POLOS Single Substrate Spin Processor, the modular design Spin Process Station provides excellent value for money: full plastic construction, with high-end components, compatible with any chemical environment in a modular set-up, suitable for your
specific requirement. An extremely versatile platform for a wide range of processes.
Multi-Process Chamber
The compact circular process chamber is constructed of solid polypropylene or ultra-pure PTFE, while the movable dispense arm, process tanks, and chemical supply lines are all
made of ultra-pure, seamless Teflon® (PFA or
PTFE). This entirely metal-free environment is suitable for a variety of aggressive media, and a multitude of processes. The sideway integrated dispense arm fully withdraws from the process chamber to avoid negative influence on process uniformity.
| | | Modular Setup for a Wide Process Window in a Compact Footprint |
| --- | --- | --- |
Fully automatic, accurate and repeatable processing: Movable linear dispense arm:
- Freely programmable static, dynamic or oscillating chemical dispense
- High pressure and/or megasonic cleaning directly to any
point on the substrate. Static chemical dispense through a range of adjust adjustable nozzles in the domed lid.
Adjustable back-side spray arm.
Heavy duty motor: programmable for 0 - 12,000 rpm.
Freely programmable processes:
- Sequentially programmable multiple dispense line-
Manual Loading -Stepless programming of various flows within a process step
- Flexible Processing from 150 up to 2,500 ml/min. For optional integrated mixing systems, the mixing rates of the various chemicals can be programmed per step.
Spin Process Station
Examples for a wide range

of substrates and applications:

Laboratory Glass, e.g. 76x26mm Pieces & Fragments

Wafers: from 1" up to 12"
Application Examples

Application Examples:

Application Examples:

Optical Media

SC1-SC2-DHF Clean-Rinse

HF/HNO3 Etch

Photo Resist Coat

Edge Bead Removal (EBR)

Puddle and/or Spray Developing

Post CMP High

Pressure and/or

Megasonic Cleaning

-70°C KOH Etch with recirculation

- Diced Wafer Clean (on Film Frame)

Mask/FPD Glass Substrates:

Coat-Develop, up to 20"

Piranha (Etch)

Clean up to 16"

Solar Cells: 103, 125, 156 and 210mm square

Texturing: Alkaline or Acidic

Porous Si Etch

Oxide Etch (PSG RemovalCleaning

Protective Layer Coating

Film Frames: 4" up to 12"

Spin Process Stations are available in an 85cm, 1m40, 1m70 or 2m wide welded polypropylene enclosure with built-in integrated spin processor, containing separate pneumatic, electrical and chemical compartments. Chemical tanks, heaters/chillers, etc. are safely stored and easily

accessible in a slide-out drawer. At the heart of each Spin Process Station is the POLOS Spin

Processor proven technology. These rugged, reliable units deliver repeatable performance.

Spin Process Stations offer a wide process window for your current and future requirements and are surprisingly affordable.
Spin Process Station
Safety

To protect users, the process chamber is automatically opened and the chuck is raised - presenting the substrate for easier and safer unloading. This eliminates any possible contact between the operator and possibly chemically contaminated surfaces. Both manual and au

tomatic chamber rinse/flush sequences can be

programmed, allowing all contaminated surfaces to easily be neutralized - even after a power failure. The automatic chemical supply system and the drain/extract / exhaust are integrated into the system to ensure fail-safe operation. Purged labyrinth seals, monitored safety interlocks, alarm sensors, vacuum monitoring, spin motor overload protection and emergency switch ensure the highest safety standards.

Main options:

-In-situ Z- axis chuck movement

-Linear dispense arm, servo controlled -Multiple dispense lines & nozzles -Several chucks designs available

-Highly responsive closed loop flow control system

-In-situ chemical mixing -Heated chemical supply

- Megasonic cleaning -High pressure jet

-Teflon® process tanks or dispense vessels -Chemical reclaim, filtered chemical recirculation

-Multiple drain outputs
Other products
휴대용 박막측정 시스템
FR-pOrtable is a unique turn-key solution for accurate & precise optical characterization of transparent and semi-transparent single
films or stack of films.
With FR-pOrtable the user can perform reflectance measurements for films in the 350-1,000nm spectral range.
In just one click, we characterize thin & thick
transparent and semi-transparent films by analysing light reflection.
Get rid of power cables and large lab space requirements. Thanks to its unique design, FR-pOrtable draws power from the USB cable that is used for its control from the computer.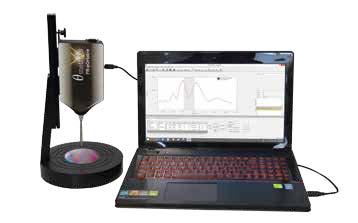 Equipped with:
A) Hybrid integrated Incandescent-LED light source emitting at spectral range 350-2000nm and software controlled through embedded ymcontroller.
-Average light source's life time is 20000h.
-Miniaturized Spectrometer in the 360nm - 1050nm spectral range, with 3648 pixel resolution and 16bit A/D resolution.
-Electrical connector: USB
-Power: The system (both spectrometer and light source) is powered through the USB port.
B) FR-Monitor software for the control of the tool, data acquisition and data processing for calculation of
1) film thickness of single or stacked films and
2) refractive index of single films at static or dynamic modes.
The software includes a large materials database that can be further expanded by the user and allows for on-line and off-line measurements.
FR-Monitor supports absorbance, transmittance and reflectance measurements.
Furthermore the software provides the theoretical reflectance spectrum for any film stack.
One license for use with FR-tool and unlimited licenses for installation in other computers to be used for post processing of the results.
C) Reference Samples: a) a silicon calibrated reflectance standard, b) a characterized area of SiO2/Si and c) a characterized area of Si3N4/SiO2/Si.
D) Reflectance probe stage and holder for reflectance measurements of films: maximum sample size 180mm, irregular shape. Manual adjustment of measurement height up to 60mm.
E) Optical probe for reflectance measurements. Transmitting light fibers 6x200ym, reflectance fiber 1x200ym, embedded in the tool
The overall specifications of the quoted system are:
- The system is able to measure thickness of single & multi, transparent & semi-transparent supported & free-standing, uniform & non-uniform films with thickness in the 20nm - 90ym range.
Sample size: from1mmX1mm to 180mmX180mm.
- Film thickness is calculated with 0.1nm precision, accuracy better than 1nm.
- The system can perform real-time measurements and analysis, post-processing of spectra
sequences, preparation of videos.
- The system is able to calculate the refractive index of transparent and semi-transparent films.
Real and imaginary parts of the refractive index are calculated for transparent and semi-
transparent films independently of the film thickness.
- FR-Monitor software include a wide database for various materials such as metals, dielectrics,
resists, polymers, semiconductors that is upgraded every six months.
- FR-Monitor is upgraded twice a year free of charge for a period of three years.
Easy, portable, with USB-Connection to your laptop
Polos Precision Bake Plate

The Modular setup of this new Table Top Hotplate enables easy plate (chuck) exchange and upgradeable options, making this a versatile and affordable tool for R&D and Pilot Lines. The POLOS Hotplate is available for processing single

or double substrates. A precision digital temperature

controller enables adjustable temperature steps of 1°C up to 230°C. It is suitable for soft bake as well as hard bake processes, and curing of photo resist or epoxy or any other work requiring precise temperature control.

Standard models for substrate sizes 150mm, 200mm and 500mm.