Polos 200s Hotplatr for soft bake or hard bake ,
업그레이더블 옵션
손쉬운 플레이트(척)교환
R&D와 Pilot Line용으로 적합

싱글용 또는 더블용 가능
듀얼 프로세싱이 가능한 히팅지역 (Several heater surface)
정확한 디지털 온도제어 1°C.
정밀한 온도제어가 필요한 PR의소프트베이크나 하드베이크 큐어링용으로 적합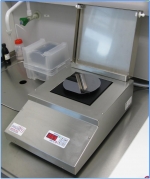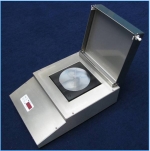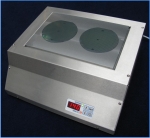 사양:
Low surface temperature: gradient heating unit (safe housing temp);
Diagnostic serial interface (RS232);
Precision temperature controlling system: uniform temp.: +/- 0,5°C;
Digital temperature controller: adjustable in steps of 1°C;
Countdown timer (1-999 sec.) with acoustic alert.
Hot Plate with cover
-Polos Precision Bake Plate
-온도범위:50-230C
-10개값 저장 가능 :temp/time
-타이머:1-999sec with accoustic
-Temperature Unioformity :+_0.5C
-plate 사이즈: 220 x 220 mm -Suitable for 1 x 200 mm wafer
-Power Max :1200w220 vac
-히팅판 :Aluminium (anodised)
-Housing Material : Stainless Steel
-치수:450 x 320 x135 mm
-뚜껑 :stainless steel
-The POLOS Hotplate is available for processing single
-It is suitable for soft bake as well as hard bake processes,
and curing of photo resist or epoxy or any other work requiring precise temperature control.
-Standard models for substrate sizes 150mm
-option : 리프팅 핀 장착 , 프록시핀 장착 , 베큠 파지 기능 , 힌지드 카버.
-Polos hotplate 200s,
-500s hotplate for 500mm x 500mm area
재성ITS co. Korea Tel:031-479-4211/2 Fax:031-479-4213
jsi@jsits.com
안양시 동안구 호계동 555-9 국제유통상가,17동 127호